ACM = "Air Combat Maneuvering" ... ye that's right boys and goils... "dogfighting"
http://en.wikipedia.org/wiki/Air_combat_maneuvering
Many X-Plane versions ago, Austin introduced the team vs team option in 'other planes' setup, and permitted the weapon use to disable aircraft. Nothing actually blows up like a spectacle in other games, this is supposed to be about aircraft handling and maneuvering to get the shot. As such, there is even laser-tag items for points or disables also.. but the question really becomes... "okay, so how genuine is the *dogfighting* itself?" The only way to test that, without getting owned by a missile fired from dozens of miles away.. is to take two unarmed basic planes, slow enough so you can really see what is going on.
Identical planes, my mistake I took mine up loaded to maxgross, ai plane is likely at mid weight (load and fuel). Capable of sustaining 120-150 in turns, up to 200 in powered straight/level/dive, and for this instance, a fantastic way to test it, and explore XP ACM.
I'd have to search back for Austin's descriptions on how he's put in the dogfighting routines. In the other-aircraft setup page, there is a difficulty ranking from very easy to very hard, with medium in between. Logically I consider this -1, 0, +1.. so medium should be without artificial handicap, or superpower. Looking back in there at the setting I had on.. it was on "very hard", the highest choice.
I think you can identify Austin's technique. I'd call it a one-trick-pony maneuver... combined with cliche top-gun'ism... but you be the judge..
...wait for it, ... wait for it....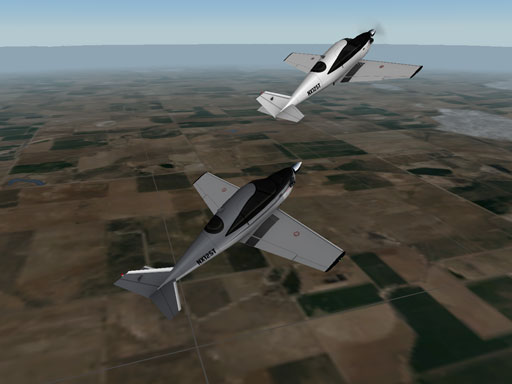 ==