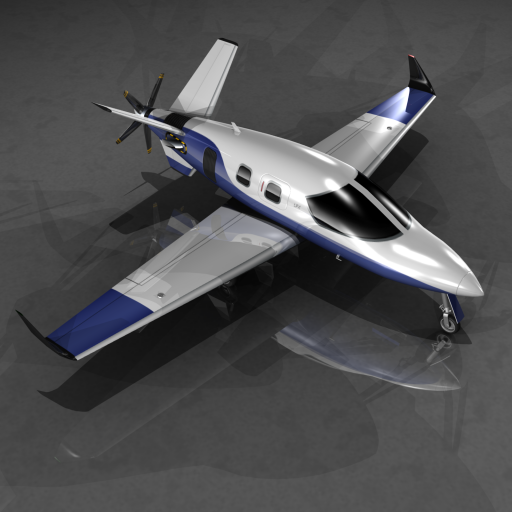 ~SEVENTY included liveries. Includes 3 wingtip options. Winglet, Blunt & Tip Tank.
LFX PRODUCT PAGE
AADxLEARFAN "LFX" R26BT CONCEPT
One in a new series of "Icon" themed aircraft meant to honor and celebrate some of the greatest aircraft in history. This one represents the
Learfan 2100
.(1)
My design is suited for 4 seats, and aimed to provide a spacious & luxurious cabin for personal air travel. I didn't want a narrow seat, cramped space.. I wanted a 4 place "Lear", with all the comforts and luxury... but on the GA ramp. In the mid-cabin cabinents for entertainment center, closet, and refreshments, the likes of which are never found in anything less than an 8 place aircraft. From the outside, its agressive looks, raked cockpit, and pressure savvy cabin windows make it fit right in on the corporate ramp next to any biz jet. Performance is on par with the VLJ candidates, cruise speeds over 350kts, >36,000' ceiling, "jet" slippery aerodynamic shape, yet with low GA landing speeds in the sub 60kt territory.
This aircraft employs a water cooled, flex-fuel
Wankel
type R26B**, 4 rotor, rotary, turbocharged, custom designed
aircraft engine
(
3
). Based on a 4 rotor
R13B REW
, to arrive at a custom version of an R26B, with turbocharger, it produces ~750 flat rated horsepower @ 6500rpm up to 24,000'. (Based on a race tuned, normally aspirated, published capacity of 700hp/9000rpm). Matched to a 2:1 transmission, allows the prop to turn 2000-2500rpm with ample torque and efficiency. In the end, it's truly a one of a kind aircraft that has to be flown to be appreciated. Rides like a baby Lear, flies like a sport racer.
(IIX version says) Model features full 3D cockpit & cabin, with shadow treated textures. 3D cockpit is the same one from LFX9 including reflective interior glass. Native 3D view. Fully functional 3D cockpit, panel, and cockpit environment. No 2D panel, it's all 3D view use and fly. Multiple liveries included. ACF bodied (Images above are renderings from Blender)
---
While reading about the Starship, another aircraft that never made it presented itself. The
LearAvia LearFan
. (2)
At the time I first read about the 2100, I couldn't find a single shred of absolute data on it. No 3-view, no nothing beyond very basic ballpark type specs. Today, the link above works that didn't before, anyway, without specs to go from, I had opted to design my own.
My only hope is that my LEARFAN-X design, honors and respects the legacy & legend, Bill Lear.
I considered making it a pusher turboprop, in the future I may do a second adaptation with a 750SHP turbine back there, but to explore the green fuels like
Ethanol
(E100),
Bio Diesel
, and possibly
Hydrogen
, I wanted to opt for a 4 rotor
R26B Wankel Rotary
.(4) It allowed me to have some fun with the gauges, and power controls. And in the research & education process we can all learn some more about the potential in renewable fuels, and how they might be able to be employed in great new designs like this. Additionally, the wankel rotary design allows for near turbine like performance from an av-gas spec engine.